Skip to Content
Family Dentist Burlington
Burlington's Family Dentist for Adults & Kids
What is family dentistry? For Burlington, ON residents, it means we accept all ages of patients, from adults and seniors to children and teenagers. We even have patients as young as infants and toddlers. Burlington Village Dental Centre offers a convenient one-stop clinic for everyone in your family with all the usual dental services and procedures, from root canals to teeth cleanings. In short, we're specialized to provide care for every family member's dental needs. It's vital for you to visit our practice for a regular dental checkup every three to six months.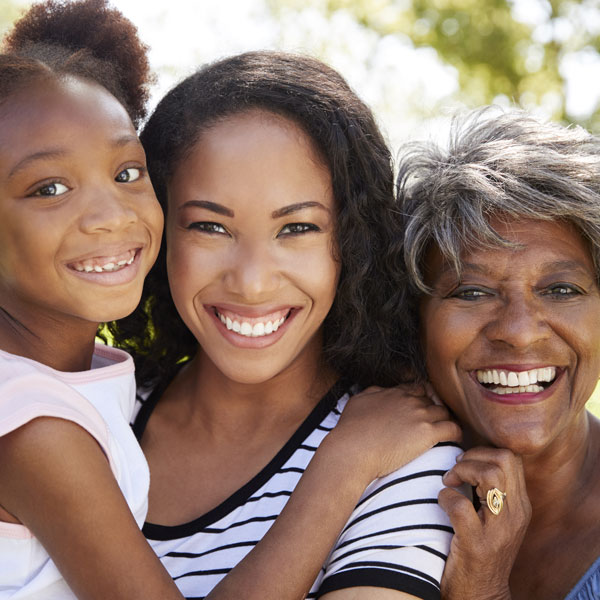 Getting Ready for Your Dental Visit
Right from the start, you should consider your dental visit a fun and exciting activity that provides a feeling of refreshment afterward. Explain to children how their dental visits are important and why they're necessary. Children don't naturally fear the dentist, but the thought of the unknown or separation from their parents during their visit might create these fears. We'll help to set your kids at ease. Don't forget to provide a list of any medications your child is on at the time of the appointment. We look forward to meeting your entire family and building a lasting relationship.
Events of Your First Dental Visit
Our team of trained and qualified hygienists and dental assistants, as well as our dentists, start with ensuring your comfort. We'll answer your questions and thoroughly conduct the following procedures:
Full Examination
Our dentist completes a thorough examination of your entire mouth, including your teeth, bite, gums, and checking for tooth decay. We'll also identify any signs of dental problems. Detecting these problems early makes them easier to reverse.
X-Rays
The dentist evaluates your dental condition using X-ray machines with virtually no radiation emissions. We can better determine any dental procedures you require since X-rays reveal dental concerns that might have gone unnoticed.
Teeth Cleaning
A dental hygienist uses special instruments to clean your teeth. This includes removing plaque, scraping under your gum line, and then polishing and flossing your teeth. Our dentist will explain how to clean you or your child's teeth properly at home.
Discuss Your Next Steps
Following your dental exam and after reviewing X-rays, the dentist advises you on the next steps you require. This could be booking another appointment for a procedure, or you may just receive some at-home tips to help you maintain good oral hygiene.
We'll Address Your Dental Concerns
While you're visiting, be sure to ask any questions you have to address your dental concerns with our dentist at Burlington Village Dental Centre. This appointment gives you one-on-one time to get answers from a specialized family dental care provider. Give us a call today to schedule an appointment for yourself or your children.
Get Dental Care for
the Whole Family!