Skip to Content
Affordable Braces in Burlington
We Treat Kids, Teens, and Adults!
Get Straighter Teeth with Braces in Burlington
Burlington Village Dental Centre wants to keep our patients in Burlington, informed about braces. There are many different types of braces and correction appliances available. The most common braces use ceramic, porcelain, or stainless-steel attachments that we place on your teeth's front or back sides. These brackets act as anchors to align and straighten your teeth. We don't need rubber ties to hold the wires in place anymore, thanks to self-ligating braces. Instead, the brackets have a door or latch for opening and closing to adjust the wire. For aesthetic purposes, we can use clear aligners on your teeth.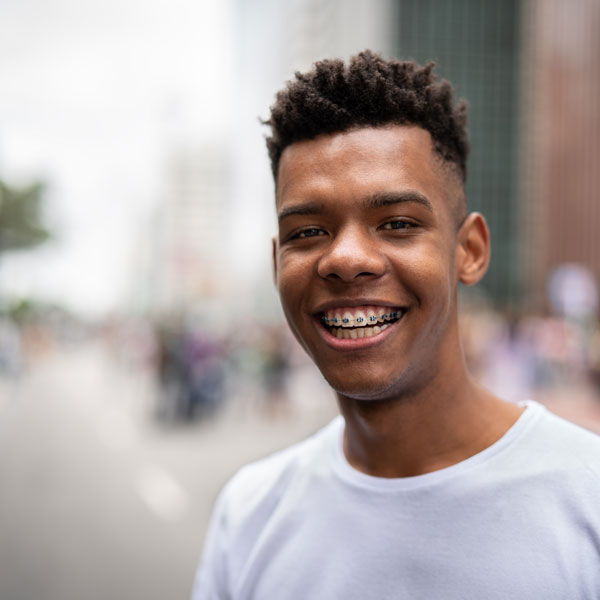 Why Get Braces
For the majority of patients, their most apparent benefit from orthodontic service is a beautiful smile. After we remove your braces, you'll already feel a boost in self-confidence. During treatment, our team strives to make you as comfortable as possible.
Duration of Your Treatment
Treatment time for braces normally lasts between one and three years. This can depend on the severity of the problem and the growth of a patient's mouth. Every patient grows at a different rate, so the response to orthodontics can vary greatly. Because of this, the time it takes to complete your case might be different from what we originally estimate. An essential factor for the most efficient treatment includes a patient's diligence in using the prescribed headgear or rubber bands. Early or interceptive treatment procedures can take as little time as six months.
Living with Braces
Braces affect the foods you can eat while wearing them. We'll start with foods that you shouldn't eat. There's good news for your weight loss goals within the first week of wearing braces. On the first day, you should only eat soft foods and avoid hard breads, raw vegetables, and tough meats. Shortly after getting your braces, you'll get to eat a cucumber once again. However, it's important that you protect your braces whenever you eat for the duration of your treatment.
Schedule Braces to Achieve a Perfect Smile
The dentists and staff at Burlington Village Dental Care ensure our patients in and around Burlington, that our braces and other orthodontic services adhere to our commitment to your comfort. For an effective orthodontic treatment to straighten your teeth, give us a call today to schedule an appointment for braces.
Get Dental Care for
the Whole Family!